Technology
How to Recover iPhone Photos Without Backup
You may have saved many memorable photos on iPhone. But it would be quite frustrating when you suddenly lose them because of accidental deletion or other reasons such as the system errors or viruses attack before you have time to back them up. So to help you get them back on iPhone again, this review will show you a professional way to recover deleted iPhone photos, even without backup. Now, keep reading and get back your lost photos once more!
Can I Recover iPhone Photos Without Backup?
It may be depressed when you find you lose some photos on iPhone before you have time to back them up. You need to know that those restore services provided by Apple, such as iTunes backup restore and iCloud syncing, would need to process the backup first. So is it actually possible to recover deleted photos without backup?
Instead of finding an official way, you will need help from some third-party recovery tools. Such tools are not working to help you back up the data first and then retrieve them back from these backups, but by scanning through your iPhone to access the internal memory and try to get back the deleted iPhone photos. In other words, when iCloud and iTunes both need you to process data backup first, only by using them can you recover photos on iPhone even without backing them up.
Do My Photos Remove Forever After Deleting?
But you may feel curious about how can such data recovery software works to recover deleted photos even without any backup? Actually, your photos are not gone forever directly after the deletion. They will be first stored in the internal memory of your device before your albums are overwritten by new data. So before they are covered by new photos, these data recovery software can detect them, then recover iPhone photos to your albums once again.
Tip: As a result, when you mistakenly delete iPhone photos, if you can find an iPhone data recovery software to process the recovering process immediately, you will get higher success rate in retrieving these photos back!
The Best Software You Need to Recover Deleted iPhone Photos
Knowing the tool you will need to recover deleted iPhone photos without backup, because there are so many options online, here the best one is well selected for you. FonePaw iPhone Data Recovery should be the most professional recovering software provided for iOS devices. It can support detecting more than 30 types of data and files, including photos, media files, messages, call logs, and so on, then recover them for you.
You don't need to worry about how you lose your photos at all because FonePaw iPhone Data Recovery can work to deal different situations and help you recover iPhone photos easily. For example, like when you delete them by accident on iPhone, or suddenly find that they are gone after your system upgrade/download, or lose them because of a failed jailbreak, and so on, the software can still scan deeply into the internal memory and then find the data of these deleted photos. After that, you can directly recover them without backup.
Key Features:
Supports recovering photos and 30+ types of other data on iPhone
Offers 3 modes to select recovering data from the device, iCloud synced files, or iTunes backup
Works to recover data lost due to different situations such as accidental deletion, system corruption etc.
Provides free and fast scanning service to let you preview whether it can detect your lost data first before recovery
Works to recover data on almost all iOS devices, including the latest models of iPhone, iPad, and iPod
Offers a user-friendly UI to let you recover data on iPhone and other iOS devices just by very simple steps
How to Recover iPhone Photos Without Backup in 3 Steps
Now, let's also follow the steps below and use FonePaw iPhone Data Recovery to recover your deleted iPhone photos without backup.
Tip: As you can see, FonePaw iPhone Data Recovery also works to recover iPhone data from iTunes backup or iCloud synced files. So if you have used these two services to back up data, you can also select these two modes to recover lost data instead of installing the iTunes app or going to iCloud website!
Step 1. Connect iPhone with Computer
When you have installed FonePaw iPhone Data Recovery on your computer, open the software. Now you need to use a USB cable to connect your iPhone with the computer to let the software detect it.
Step 2. Choose A Mode and Start Scanning
After FonePaw iPhone Data Recovery detects your iPhone successfully, you can select the "Recover from iOS Device" mode on the left menu. Then click the "Start Scan" button to let the software scan your iPhone immediately.
Step 3. Choose Photos to Recover
When FonePaw iPhone Data Recovery finishes scanning your device, it will list all the detected photos to you. Now you can scroll the whole list and choose the deleted photos you want to get back again. Finally, just press "Recover" and then FonePaw iPhone Data Recovery will begin to get back these photos for you.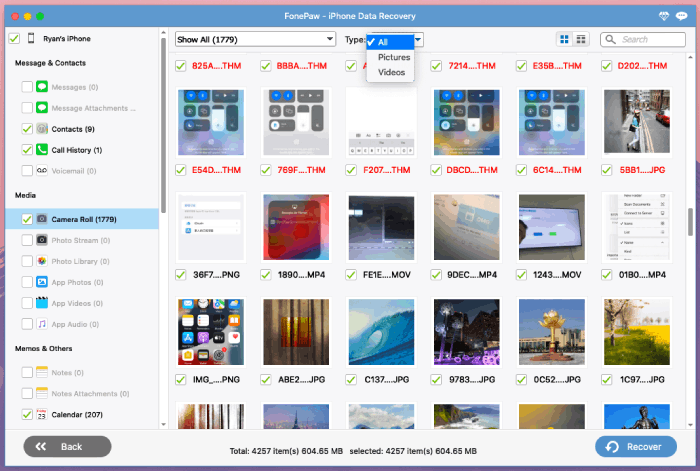 Cost of FonePaw iPhone Data Recovery
Although FonePaw iPhone Data Recovery is not completely for free, it provides free scanning service to let you check whether it can detect the data you want to recover first before actually paying for the recovery step. Now, FonePaw iPhone Data Recovery costs at USD 54.56/month. By comparison, its yearly plan and lifetime license are more economical, which cost at only USD 66.47 and USD 76.97 separately.
In Conclusion
As you can see, by using a professional iPhone data recovery software like FonePaw iPhone Data Recovery, it would just be so easy to recover some lost data on the devices. So next time you find you mistakenly delete any photos or files on iPhone, just turn to FonePaw iPhone Data Recovery for help. The software only needs very simple operations to get them back!