Business
The Night Ranger Spot Light Illuminating the Way in Truck Electrics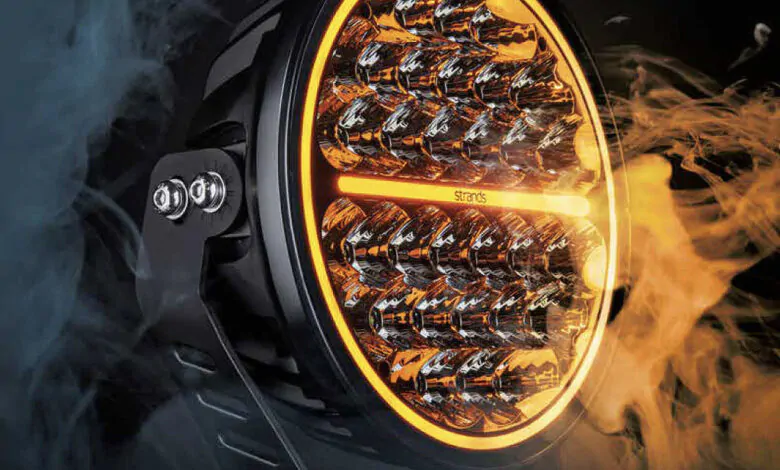 In the world of Truck Electrics, where illumination matters the most, the Night Ranger Spot Light stands as a shining example of cutting-edge lighting technology. As a premier supplier of Vehicle Lighting & Auto Electrical Supplies, Truck Electrics takes pride in offering this exceptional product to customers across the UK, Ireland, and Mainland Europe.
The Night Ranger Spot Light not only enhances visibility during nighttime driving but also showcases the commitment of Truck Electrics to providing top-notch lighting solutions. With its advanced technology and widespread availability, this spotlight is revolutionizing the way truckers experience illumination on the road, ensuring safer and more efficient journeys.
Illuminating the Night with Unmatched Brilliance
The Night Ranger Spot Light, brought to you by Strands, is a true masterpiece in the realm of lighting solutions. This powerful 9″ LED lamp boasts an impressive 14280 Raw Lumens, ensuring that the darkest of nights are banished with its radiant glow. With its unique Spot Beam Pattern, this spotlight has the ability to illuminate vast distances, reaching up to an astonishing 900 meters with just 1 lux. This means you can navigate even the most challenging terrains with confidence and clarity.
Unleash the Power of Distance Illumination
The Night Ranger Spot Light is not just any ordinary spotlight. Its long-reaching spot beam is designed to cast its brilliance over great distances, making it an indispensable asset for any truck enthusiast, off-road adventurer, or utility vehicle operator. When paired with the Night Ranger Flood Beam Driving Light, the result is a symphony of light that offers both wide flood beam coverage and exceptional distance illumination.
Combining unparalleled distance illumination with wide flood beam coverage, the Night Ranger Spot Light and Flood Beam Driving Light create a harmonious blend of functionality and versatility. Whether you're tackling rugged trails, navigating remote routes, or requiring reliable lighting for demanding tasks, this dynamic duo stands ready to redefine your lighting experience. Their seamless coordination ensures that every corner is lit and every obstacle is met with confidence, enhancing your driving adventures like never before.
Dual-Color Brilliance
One of the standout features of the Night Ranger Spot Light is its selectable Amber/White Position Light. This clever addition not only adds a touch of style to the lamp but also serves a practical purpose. The dual-color illumination enhances visibility by delineating the edges and center of the lamp. Users can effortlessly switch between the two colors by adjusting the wiring, making it a versatile choice for different situations.
Specifications and Features
The Night Ranger Spot Light is not only about aesthetics; it's a technical marvel designed to meet the demands of modern vehicle lighting. With 34 high-performance LED units, this lamp operates within a voltage range of 9-35V DC, ensuring compatibility with a wide range of vehicles. The theoretical effect stands at 170 watts for both 12V and 24V systems. However, the Night Ranger's efficiency shines through with actual consumption figures at 144.7W (12V) and 143.5W (24V).
With a theoretical lumen count of 14280 and an actual lumen output of 10485, this spotlight delivers on its promise of exceptional brightness. The cool 6000 Kelvin color temperature ensures a clear and natural light output, while the robust construction materials—aluminum housing, stainless steel bracket, and polycarbonate lens—guarantee durability even in the harshest environments.
Seamless Integration and Convenience
Truck Electrics understands the importance of hassle-free installations. The Night Ranger Spot Light's connection is made easy with the DT-4 plug, and a 500mm cable length provides ample room for maneuvering. The lamp's dimensions—228.6mm in length, 86.7mm in depth, and 228.6mm in height—make it a compact powerhouse that fits seamlessly into various setups.
The Night Ranger Spot Light is designed to perform without compromise, regardless of the conditions. With an operating temperature range spanning from -30°C to +65°C, this lamp is ready to shine whether you're traversing freezing landscapes or enduring scorching heat.
Final Thoughts
In the world of Truck Electrics, where visibility and safety are paramount, the Night Ranger Spot Light from Strands is a beacon of brilliance. As a reputable supplier of Vehicle Lighting & Auto Electrical Supplies, Truck Electrics brings this remarkable product to your doorstep. With its extraordinary distance illumination capabilities, dual-color position light, and exceptional technical specifications, the Night Ranger Spot Light is a testament to innovation and performance.
Whether you are embarking on a daring off-road adventure or navigating the highways of Europe, let this spotlight be your guiding light through the darkest of nights. Illuminate your journey with the Night Ranger Spot Light where cutting-edge technology meets practical brilliance in the world of Truck Electrics.