The weekend of December 18 to 20, 2020 is already around the corner and in Espinof we want to recommend the best 11 films to watch for free on Spanish national television during these days. I remind you that this is a personal selection, so there is no place for those that you have not seen or do not remember enough of them. Those that have already appeared in a similar article during the last two months are also left out.
Friday, December 18
'Thor: Ragnarok'
An important change with respect to the two previous installments of the God of Thunder, since here they opted for a much more comical tone, stimulating for some and somewhat tacky for others. I really enjoy it until in the end it has to become a regular superhero movie, missing out on the magnificent villain played by Cate Blanchett.
'Star Trek'
A highly entertaining relaunch of the franchise with JJ Abrams at the controls that helped new generations connect more with it. Its very successful cast and frenetic pace are other keys to this model blockbuster.
0:05 in DMAX
Saturday December 19
'Children of men'
One of the best science fiction movies of all time. From the impressive staging work to its cast to a huge Clive Owen, not to mention the sensational photography of Emmanuel Lubezki, it all fits into a fascinating film to return to from time to time.
10:00 PM at Paramount
'Peter And The Dragon'
A remarkable update of the Disney movie that knows how to capture and update that feeling of magical innocence so that our inner child has a great time as a very simple proposal, yes, but also quite successful.
22:00 at Four
'Interstellar'
Christopher Nolan's ambitious space odyssey is also the most emotional film of his entire filmography. A visually spectacular and intense narrative proposal that would not be the same without the great work of Matthew McConaughey
22:10 on Antena 3
'Colossal'
A stimulating twist on the stories of giant monsters by subordinating that part of the story to the experiences lived by a wonderful Anne Hathaway, well wrapped by a Jason Sudeikis in a role far from her usual image. Of the best of Nacho Vigalondo.
02:10 at Paramount
Sunday, December 20
'Equilibrium'
The failure of this film starring Christian Bale between '1984' and 'Matrix' was very undeserved. Probably how recent the latter was played against him, but Kurt Wimmer did not have the same means as the Wachowski.
6:00 PM at Paramount
'Little Warriors'
A nice joke by Joe Dante that is far from the level exhibited in 'Gremlins', but that does not mean that it is a family proposal with quite bad grape with which to have a very good time watching it.
'Demolition Man'
A first-rate pastime that knows how to combine action with science fiction, giving Sylvester Stallone one of its most unforgettable characters and with a highly inspired Wesley Snipes as the great villain of the function. And also watch out for his hilarious sense of humor when addressing that politically correct future that he poses …
23:10 on laSexta
'The Mummy'
Probably the best heiress ever made to the Indiana Jones saga both because of Stephen Sommers' way of carrying the story, his impeccable sense of adventure and a mix of well-built characters with a very successful cast, making it impossible to see other actors in those characters. Too bad that Brendan Fraser did not become that great star that he aimed to be.
23:40 at 1
'16 Streets'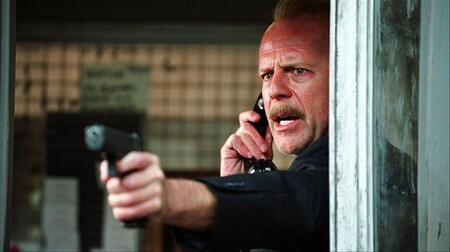 The latest Richard Donner-directed film is an exhilarating old-fashioned action film whose plot resembles an update on 'Suicide Road', only with Bruce Willis instead of Clint Eastwood in the title role.
0:15 in Thirteen